Intern's Corner: Generating a Thesis Sentence and Working Thesis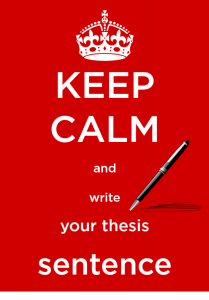 This week I am focusing on a thesis statement for my final project in a business class I am taking. Just like the OWL states, "the thesis sentence is the key to most academic writing," therefore, if any of you are trying to generate a thesis statement and are unsure where to start, I thought I would take you along my journey and mention some tips I learned along the way.
Parts of a Thesis Sentence
Upon going onto the Parts of a Thesis Sentence tutorial, I was reminded that the main purpose of an academic paper is to show to your audience that you can fully grasp and critically think about the subject matter you are addressing and form an educated opinion in a clear and concise manner. Therefore, your thesis sentence, as the tutorial suggests, should encapsulate the results of your thinking and provide a condensed version of what you have learned through your research.
Angles in a Thesis Statement
Your thesis statement should consist of a topic and an angle. The topic is the main idea of the paper and the angle is what you decide should be the hook to your paper. The purpose of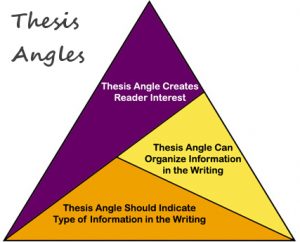 the angle is to create reader interest, as well as indicate the type of information you will be presenting. According to the OWL, figuring out an angle is one of the more difficult parts of generating a thesis statement. However, it is important to remember there is no single way to generate a thesis statement, so you should not overthink it. One way to help yourself write the angle is to write several different thesis statements down and then decide which one is the best overall. You can also ask a classmate or someone you trust to give you constructive feedback as to the flow and clarity of your thesis statement. The main thing to remember is that these beginning thesis statements are just a starting point, or working thesis statements, and can change as you continue to write your paper. You can always come back to it and adjust the wording, just make sure you keep the basis thesis characteristics of the topic and angle as you revise.
The tutorial also offers a video to see and hear how a student uses the ideas of forming a well thought out thesis statement as well as what she has learned through the process.
Thesis Checklist
Check out this thesis checklist to see if your thesis can answer these questions: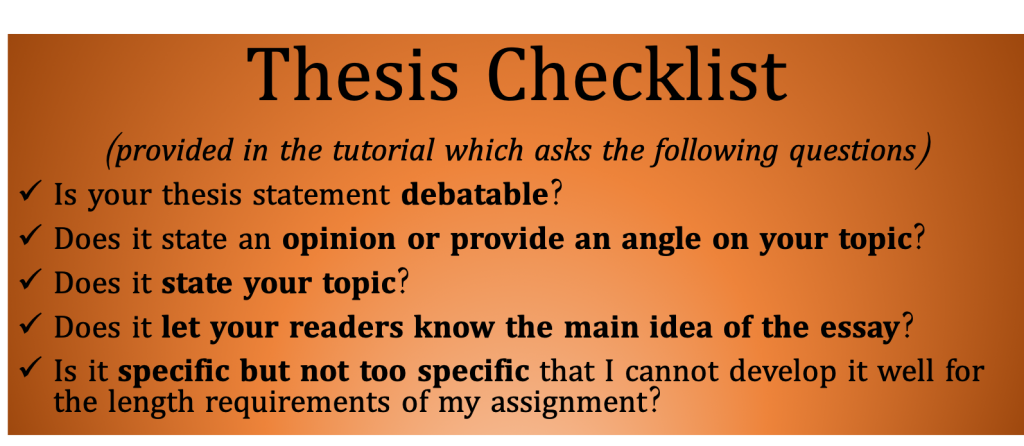 Final Thoughts
This is only one tutorial regarding generating a thesis statement on the OWL. Check out the other tutorials regarding argumentative thesis statements, as well as the thesis statement activity to check your knowledge of how to spot a good thesis statement, which can help solidify what you have learned.
Ginger Hamblin is an intern for the Excelsior University Online Writing Lab. She has been a student of Excelsior University for almost two years and pursuing her Bachelor of Science – Liberal Arts in Professional and Technical Writing. She is a writing enthusiast, painter, wife, and mother of three boys.