Creating Effective Class Presentations Using the Excelsior OWL Presentation Resources
Written by Anna Zendell, PhD, MSW
As I review the syllabus with my students, they quickly realize that I have assigned a voice over class presentation. Immediately, I feel their twinges of apprehension. However, as an instructor in master's level health and public health courses, I often task my students with these presentations to help them build essential career communication skills. Master's prepared healthcare and public health professionals often assume key leadership positions that necessitate communicating highly effectively with government, regulatory, professional, and consumer stakeholder groups. The assigned presentations allow students to practice these skills in a safe setting, using topics of professional or personal interest to them.
Despite the benefits, there's no question; doing class presentations can be intimidating! Presentations are often a combination of researching, writing, and then creating and recording a PowerPoint or Prezi visual presentation. Presentations provide students with an opportunity to show their knowledge and their growing communication skills. There are so many steps involved in creating a compelling presentation, and often so little time.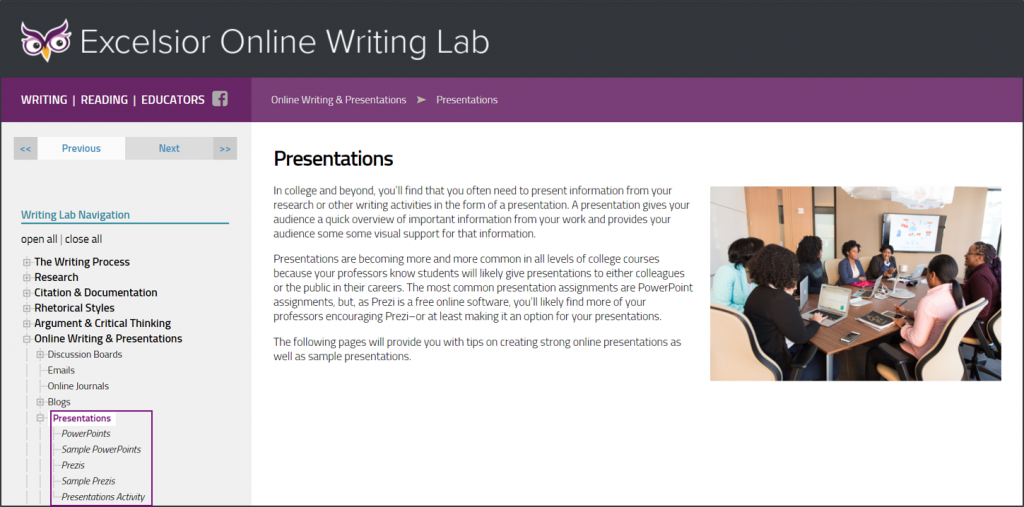 Enter the Excelsior OWL's Presentations page! This Excelsior OWL resource is full of tips on laying out presentation slides in an effective way that is tailored to the intended audience. The Excelsior OWL also provides several best-practices examples that students can model. The most common types of presentations are PowerPoint voice-overs, though people are increasingly using Prezis to showcase higher-level multi-media skills. The Excelsior OWL offers how-to's on both formats!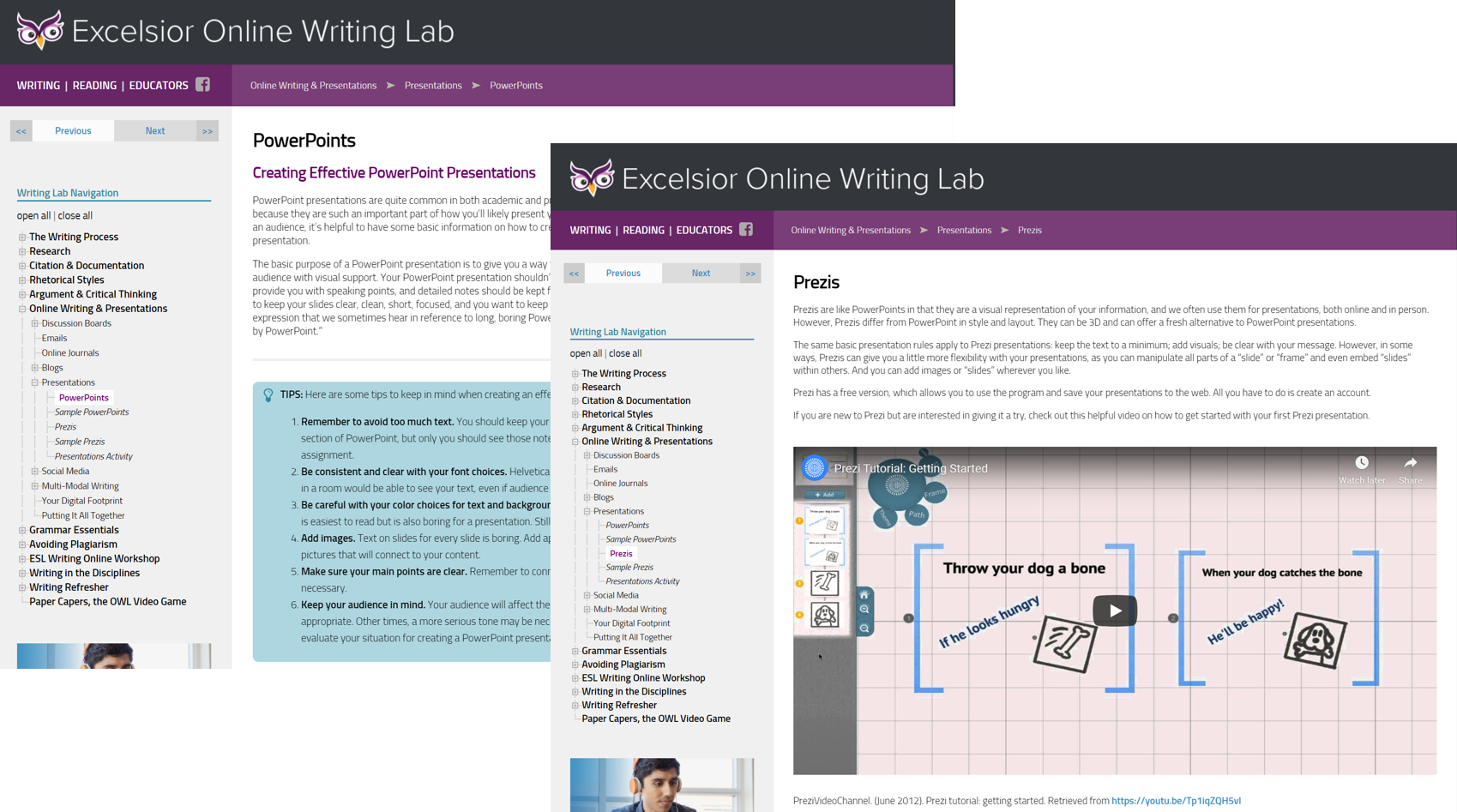 When students approach me for help in getting started, I first refer them to the Excelsior OWL. Then I share some step-by-step strategies to help them organize themselves. Here are the steps:
Decide on a discrete topic. Be sure you can articulate why this topic is important or relevant.
Next, decide on your audience. Who is going to view this, and why? Do you want to educate, persuade, recommend, or some other goal? How can you best communicate with your intended audience?
Now that you have your topic and audience, do some research. Decide what information you need to accomplish your goal for that audience and gather your supporting evidence.
Go to the EC OWL Presentations website to learn how to create your presentation.
Now, create your presentation. Be sure you have a good balance of text, images, charts, and white space as recommended in the OWL.
Do a test recording to be sure you can easily record your audio to your presentation. You can also listen to your voice speed and diction to be sure you sound as you want to. Be sure there is no background noise that can distract your audience.
Lastly, record your presentation!
I am always impressed by the quality of many of my students' presentations! They showcase creativity, insight, and application of knowledge, while often urging action on key issues related to individual and community health. With faculty support and robust resources such as the OWL, students can truly produce "best-in-class" presentations!
Anna Zendell, PhD, MSW, is a senior faculty program director at the Excelsior University School of Graduate Studies. She oversees the Master in Health Sciences and Master in Health Care Administration degree programs at Excelsior. She has over fifteen years' experience teaching online and blended graduate and undergraduate courses in social work, health sciences, and public health.