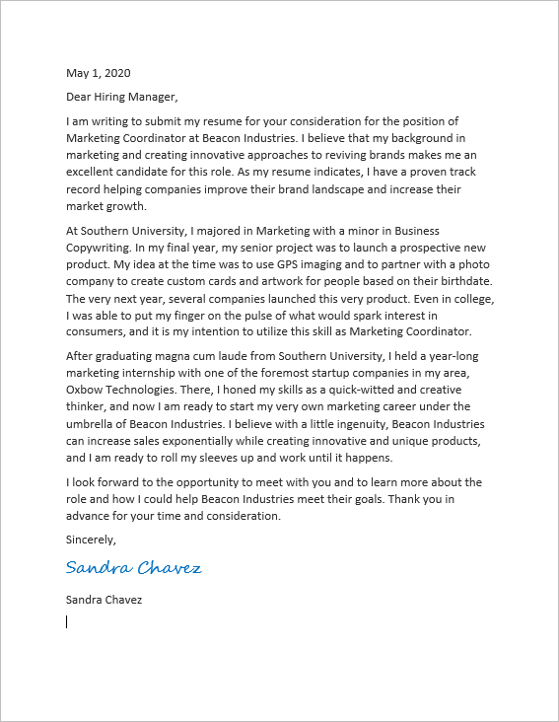 Almost all job applications occur online these days, whether through a job search website or the website of the company or institution that has the job opening. While it is true that some of the job portals do not require a cover letter, many hiring managers give preference to resumes that arrive with a letter attached. Cover letters also give you a chance to add more to the "story" of your resume. You can go into more detail about some of your past experience and explain how your work history makes you a good candidate for the position at hand. And perhaps most importantly, a good cover letter shows your potential boss that you can write well—a skill that is in high demand in many career paths.
In general, you will format your cover letter like a business letter. Occasionally, you can write an email and attach your resume when applying for a job, but let's assume that for the most part, you will have two documents to send or upload as PDFs when you're ready: your cover letter and your resume.
Things To Do Before You Write Your Cover Letter
You want your cover letter to stand out from the others. While there is a basic format to follow, you can make yours unique by doing a few basic things.
Consider how you will introduce yourself. Explain how you came to find out about the position, whether it was through a personal referral, a job board, or social media.
Do some research on the company to which you are applying. Read their website, look at the profiles of its employees, learn their corporate "language" (if it's a company) or its core values. If it is a school, corporation, or medical facility, find out what its mission and vision statements are. Learn as much as you can about the work this organization does so that you can explain how your past experience aligns with its work.
Think about a few key work experiences that you want to highlight in your cover letter and draft a few notes about why they are relevant or important.
Find out to whom you are writing. If it is an actual person, like an HR representative, hiring manager, director, or other person, get their name and title and be careful to spell everything correctly. If that information is not available, you can use greetings such as "Dear Sir or Madam," "To Whom It May Concern," or "Dear Hiring Manager."
How to Format Your Cover Letter
The length of your cover letter will depend on the kind of job and level of employment for which you are applying. All cover letters should include:
A header, if you have the information (if you have the name and title of the person to whom you are writing)
A salutation or greeting
A first paragraph that explains why you are writing
An explanation of how your work experience relates to the job for which you are applying (1-3 paragraphs)
A closing paragraph
A letter sign off and signature
Good fonts to use for cover letters are the same as for academic papers. They should be clear, easy to read, and professional. Some examples are Arial, Calibri, or Times New Roman in 11 or 12 point font. In general, cover letters do not need to be longer than one page.
Sample Cover Letter
Here is a sample cover letter written by a potential candidate for a job as a marketing coordinator:
May 1, 2020
Dear Hiring Manager,
I am writing to submit my resume for your consideration for the position of Marketing Coordinator at Beacon Industries. I believe that my background in marketing and creating innovative approaches to reviving brands makes me an excellent candidate for this role. As my resume indicates, I have a proven track record helping companies improve their brand landscape and increase their market growth.
At Southern University, I majored in Marketing with a minor in Business Copywriting. In my final year, my senior project was to launch a prospective new product. My idea at the time was to use GPS imaging and to partner with a photo company to create custom cards and artwork for people based on their birthdate. The very next year, several companies launched this very product. Even in college, I was able to put my finger on the pulse of what would spark interest in consumers, and it is my intention to utilize this skill as Marketing Coordinator.
After graduating magna cum laude from Southern University, I held a year-long marketing internship with one of the foremost startup companies in my area, Oxbow Technologies. There, I honed my skills as a quick-witted and creative thinker, and now I am ready to start my very own marketing career under the umbrella of Beacon Industries. I believe with a little ingenuity, Beacon Industries can increase sales exponentially while creating innovative and unique products, and I am ready to roll my sleeves up and work until it happens.
I look forward to the opportunity to meet with you and to learn more about the role and how I could help Beacon Industries meet their goals. Thank you in advance for your time and consideration.
Sincerely,
Sandra Chavez