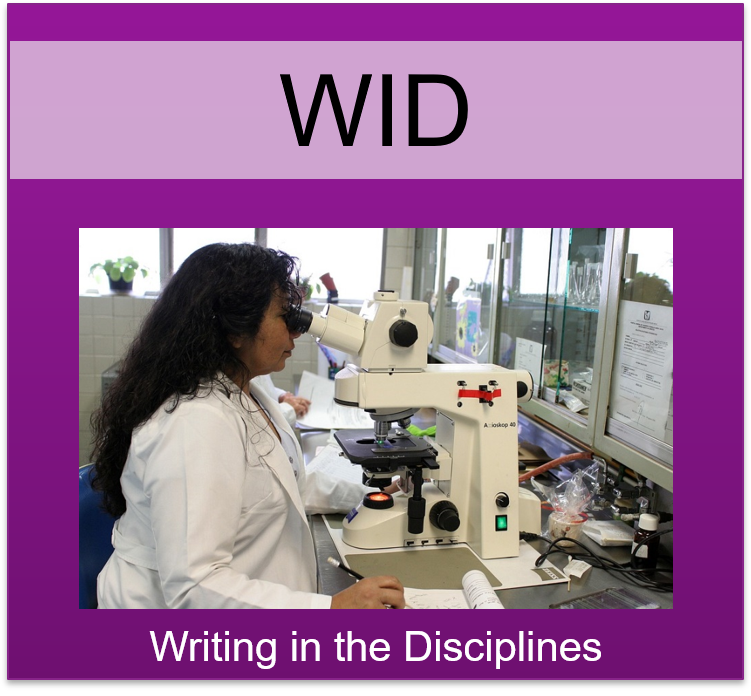 What is Writing in the Disciplines?
Writing in the Disciplines (WID) is an offshoot of the Writing Across the Curriculum (WAC) movement. WAC took root in the United States in the 1970s in response to the shortcomings of department specialization, which restricted the teaching of college-level writing to English departments. The WAC movement acknowledged several shortcomings of this approach, including that a) writing could not be effectively taught within one or two semesters of composition courses and b) writing conventions and genres varied greatly from one discipline to the next, and no single department could master and teach all writing genres.
WID is based on the idea that writing takes place within a discursive community with its own unique genres and conventions. Therefore, WID is about teaching students how to write using the genres and conventions of a specific discipline or profession. As such, WID is founded on the following principles:
Writing is not a generic skill that is the same in all disciplines; each discipline has its own native writing genres and conventions
Writing is always specific to a context
Writing is learned through participation in a discursive community
Writing is a form of professionalization
WID Professional Development Modules
This resource offers four professional development modules to introduce educators to the key principles and practices of WID. The modules also provide a good introduction to some core WAC principles, such as scaffolding, peer review, and revision, and demonstrate how to apply these principles in a variety of disciplinary genres. Each module offers an interactive slideshow (of about 20-30 slides), an hour-long recorded webinar, and several handouts. The modules can be taken sequentially or in any order.
Part 1: Introduction to Writing in the Disciplines
This module provides an introduction to Writing in the Disciplines. It covers the following topics:
A definition of Writing Across the Curriculum, Writing to Learn, and Writing in the Disciplines
The benefits of using writing in the classroom
A definition of a genre
Examples of genres in academic disciplines
How to identify the elements of a genre
A breakdown of a sample nursing genre
Tips for teaching a genre-based writing assignment
Part 2: Creating Effective Assignments
This module provides tips on how to create effective writing assignments in any discipline. It covers the following topics:
How to analyze a genre (with a five-part rubric)
How to assess learning gaps and align solutions
How to write clear instructions
How and why to apply a process approach to writing with scaffolded assignments
Part 3: Peer Review and Revision
This module focuses on how to apply peer review and revision stages to enhance and improve the writing process. It covers the following topics:
A review of scaffolding
A definition of peer review
Why do peer review?
How to do peer review
Examples of peer review assignments
What is revision?
Why revise?
How to revise
Examples of revision assignments
Part 4: Effective Feedback and Rubrics
This module focuses on tips and best practices for how to provide effective feedback and how to design and use rubrics to support Writing in the Disciplines. It covers the following topics:
The purpose of feedback
Challenges to providing feedback
Dos and Don'ts of providing effective feedback
Feedback modes
Tips for grading more efficiently
What is a rubric?
Why use rubrics?
Types of rubrics
Rubric design tips and examples
Digital rubrics for teaching online
Rubrics and institutional effectiveness