Of OWLs and Students: Making the Most of the Excelsior University Online Writing Lab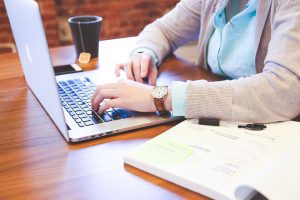 The semester is winding down and your term paper is due in less than a week, but you have no idea how to write one! Sound familiar? No problem. Excelsior University offers a nationally-acclaimed, free resource for support with academic writing. It's called the Online Writing Lab, or OWL for short.
With over a dozen national awards, the OWL helps more than 23,000 students each month who use the OWL on their laptops and mobile devices. The OWL covers a host of topics ranging from thesis construction, to grammar, to APA style, and even offers its own video game on the writing process. Unlike most online writing labs, the Excelsior OWL uses the latest technology to deliver materials that are engaging and effective.
Let's take a closer look at what the OWL has to offer you.
A One-Stop Shop for How to Write a Paper
The OWL covers how to write a paper from A to Z. In the The Writing Process section, you'll find a process-based approach to writing instruction that covers everything from understanding the assignment, to brainstorming ideas, to revising a paper. Need help coming up with a topic? No problem, we cover that. Need help making an outline? Again, no problem, we're on that! Need help writing the dreaded "thesis statement?" Yeah, we cover that, too! We even cover how to revise and edit your paper. It's all in The Writing Process.
What about research and citation? We got that! In the Research and Citations section of the OWL, we address topics such as how to come up with research questions, where to do research, how to evaluate sources, how to take notes on sources, the difference between quoting, paraphrasing, and summarizing, and how to use APA style for formatting your essay, doing in-text citations, and documenting sources (we even cover MLA and Chicago style for good measure). It's all in there! Oh, while you're doing research, you might need help with avoiding plagiarism, right? Well, we built an entire section just for that! Check out our interactive tutorial on Avoiding Plagiarism.
But what if you need basic support for things like grammar? You guessed it—we cover that, too! Our Grammar Essentials section covers a YUGE list of grammar topics with lots of activities to practice what you learn. We even have a section dedicated to the 20 Most Common Grammar Errors.
From Argumentative Essays to Discussion Board Posts
In addition to covering the basics, we also provide support for specialized topics. Need help writing an argumentative essay? No problem. The section on Argument and Critical Thinking is all about how to devise, write, and support an argument, including how to avoid the most common types of logical fallacies.
Need help writing a comparison/contrast essay or a cause and effect analysis? We cover these types of essays and many others in the section on Rhetorical Styles. We even offer sample essays that you can download and review.
Having difficulty writing a paper because English isn't your first language? Well, we have a solution for you! Our ESL Writing Online Workshop is geared toward supporting students for whom English is a second (or even third) language.
Finally, we also have a section devoted to Online Writing & Presentations. This section covers things like how to write a discussion board post (yes, we can help you with this!), how to write a blog, and how to create a PowerPoint presentation. Check it out!
The Interactive, Multimedia Advantage
The OWL delivers all of this content using the latest technology. Throughout our site, you'll find numerous instructional videos, slideshows, infographics, and handouts. Every section also has scored quizzes and activities to help you practice and consolidate what you are learning. Check out our Index of Writing Activitiesfor a complete list of all the interactive, multimedia content available on the site.
And then there's Paper Capers! Paper Capers is the official OWL video game. You heard right. We have our own video game. In Paper Capers, you play an editor at a newspaper in charge of managing a team of writers. The game teaches you the writing process by having you direct and check the work of your writing team. You can find it on the Apple App Store (for iPads only).
It Works!
Ok, so we have a lot of free content, but maybe you don't give a hoot yet because you're wondering, "Does it work?" Yes, in fact, it does! Two multi-campus controlled studies demonstrate that the OWL verifiably improves essay writing skills and even helps students improve their final course grade by more than 6 points!
So, what are you waiting for?! Go check out the Excelsior University Online Writing Lab right away! While you're there, don't forget to check out the new Excelsior University Online Reading Comprehension Lab, too, the only free, online, comprehensive resource to support college-level reading.
Credits
This article was originally published in the Excelsior Experts blog.